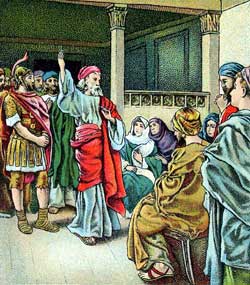 "I truly understand that God shows no partiality."
-- St. Peter (Acts 10:34)

Cornelius the Roman Centurion was an object lesson in God's love for the Apostle Peter. Peter was sent to preach the Gospel to this person who was clearly outside of Peter's comfort zone. Cornelius had a hundred Roman soldiers at his command. Roman Soldiers occupied Palestine at that time and they were the ones who had carried out the crucifixion of Jesus. It is no wonder that Peter had to be convinced by God in order to go preach to Cornelius and his household.

When Peter arrived on the scene, he conceded that God does not show partiality, but offers the love of Jesus to everyone. Then Peter proceeded to preach the Good News to Cornelius about Jesus' life, death and resurrection. Cornelius and his household became Christians on the spot and were baptized.

Tradition holds that Cornelius took his place in the councils of the Church and served as Bishop in his home city of Caesarea.

In peace,

Linda+
The Rev. Linda McCloud
The Episcopal Church of Our Savior at Honey Creek
http://www.oursaviorhoneycreek.org/
http://oursaviorhoneycreek.blogspot.com/